This week's featured painting is relatively simple--an abstracted palm leaf background with a single donkey in the foreground--and a reminder of Jesus' words in Matthew: "If anyone says anything to you, just say this, 'The Lord needs them.'" (21:3) In the story from Matthew, we aren't told whether the owner of the donkey and colt were even around to inquire as to the taking of their animals, or if they were, how they responded. We are only told the reason it's acceptable--the Lord needs it. You are invited to begin this week by considering--what might God be asking you to give up/hand over/contribute toward God's work in the world?
There will be two more video devotionals to come for Holy Week. Thank you so much for joining me this Lent. It's been a privilege to share my art and God's stories with you. If you'd like to follow my work, you can sign up to receive emails HERE. Don't worry, I will not flood your inbox! ;)
.
REFLECT
The previous prophesies of Ezekiel have come to pass--the Israelites are in exile and the covenant with God appears to be broken. They have been kicked out of their homeland for failure to follow their covenant with God. But in this passage, Ezekiel has another vision--a strange one of dry bones--bones which God calls back to life. "Mortal, these bones are the whole house of Israel. They say, 'Our bones are dried up, and our hope is lost; we are cut off completely.' Therefore prophesy and say to them: Thus says the Lord God: I am going to open your graves and bring you up from your graves, O my people, and I will bring you back to the land of Israel. And you shall know that I am the Lord when I open your graves and bring you up from your graves, O my people. I will put my spirit within you, and you shall live, and I will place you on your own soil; then you shall know that I, the Lord, have spoken and will act, says the Lord." (Ezekiel 37:11-14)
What in your life (or around you) needs renewal? This week, pray for God's breath and spirit to be with you and the world.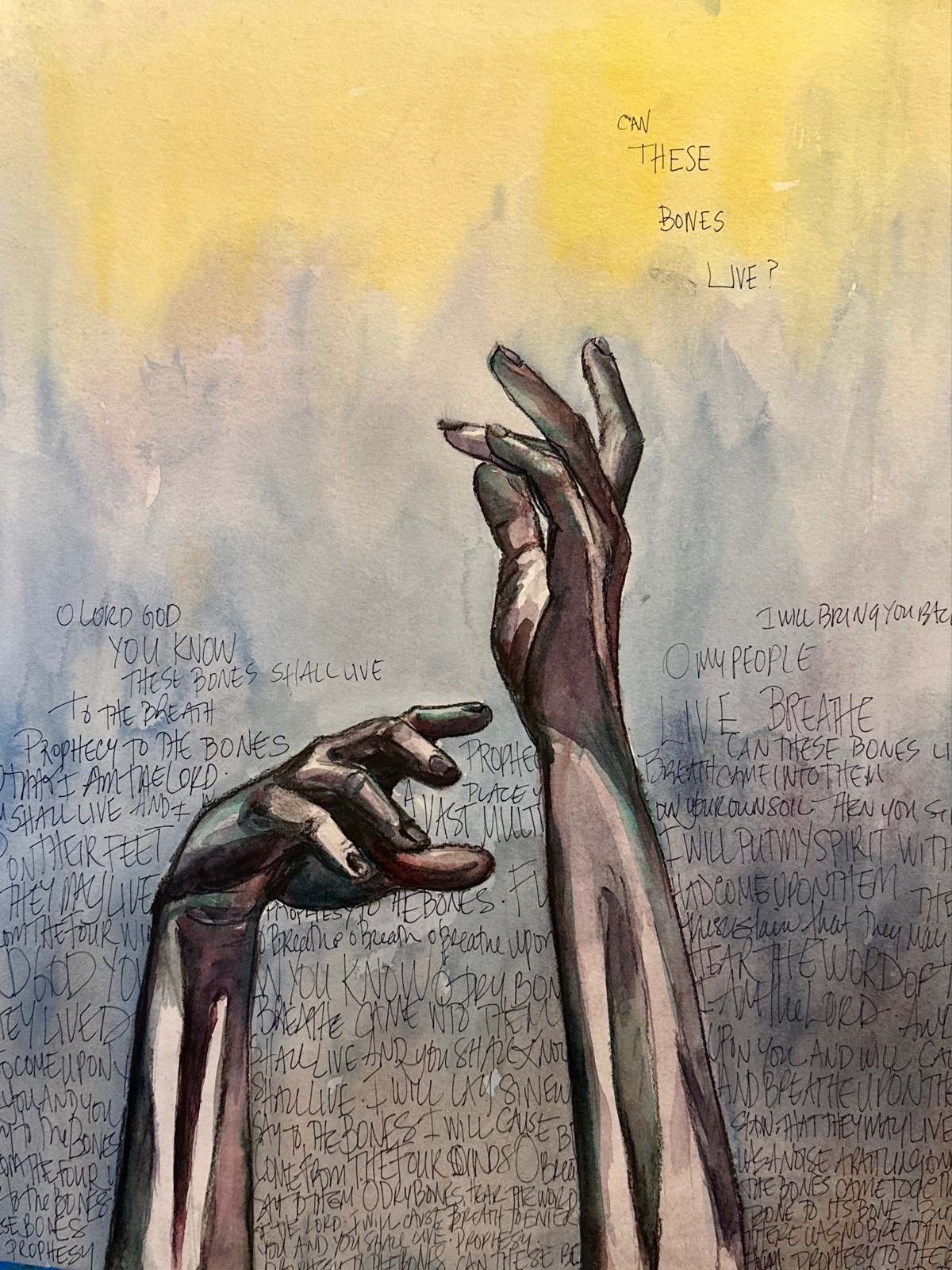 And now for SOMETHING COMPLETELY DIFFERENT
Our first story (the choosing/anointing of David) is one that makes me laugh a bit. I imagine the the growing anxiety in the place as one-by-one Jesse's sons are passed over by God. It is likely nobody was more anxious that Samuel, who thought the idea of choosing Saul's successor a risky-enough endeavor. But he follows God's command and gathers Jesse and his sons so God can show him who the chosen one will be.
Eliab? Nope.
Abinidab? Nope.
Shammah? Keep walking.
The other four sons? Can't even be bothered recounting their names. NEEEXT.
Samuel is flummoxed. God explains: "Do not look on his appearance or on the height of his stature, because I have rejected him, for the Lord does not see as mortals see; they look on the outward appearance, but the Lord looks on the heart."
Surely, there must be another son.
Of course, there is....David is out in the pastures keeping his sheep tended and his appearance très "ruddy."
"'Send and bring him, for we will not sit down until he comes here.' He sent and brought him in. Now he was ruddy and had beautiful eyes and was handsome. The Lord said, 'Rise and anoint him, for this is the one.'" (1 Sam. 16:11)
WHAT WAS ALL THAT GOD DOES NOT SEE AS MORTALS SEE BUSINESS?!? As if the narrator just can't help himself, he lets the hearer know--David was definitely a stone cold fox. Not that it matters. It doesn't. Narrator just though you should know.
Why am I picking up on this absurdity this week? Maybe it's because I sometimes need to be reminded that it's hard for EVERYONE to change the way we encounter the world--apparently it was no less difficult for whoever set this story on the page. Aren't our Lenten disciplines about reorienting our vision? About trying to see the world the way God sees it? It's an imperfect process--so imperfect that in a text which highlights how God looks to the inside, one of the final elements of the story is a summary of David's physical prowess. In this inconsistency we have an honest model of the human condition. We keep trying to align our vision with God's. It will be imperfect and sometimes messy. We will struggle to place value on what God values. AND...and we can trust and give thanks that God places value on our lives, as messy and imperfect and absurd as they can so often be.
If you'd like to practice re-visioning this week, consider the ways in which your vision might need to be oriented when it comes to seeing yourself, those around you, and even the world. Take it seriously. But maybe not too seriously. Faith is a practice, not a perfection. God has a sense of humor, too.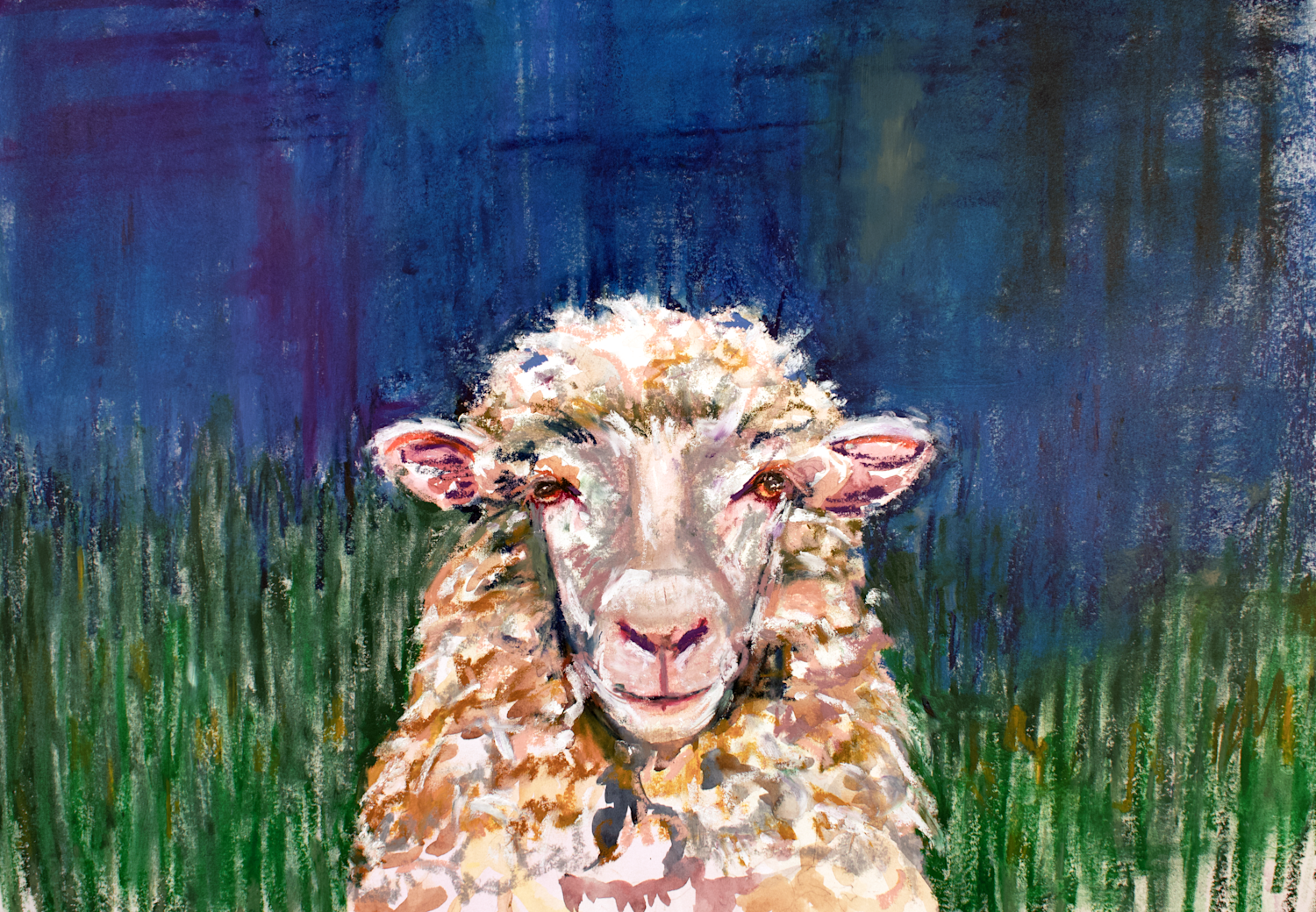 Counting Sheep
16 x 20"
Watercolor & oil pastel on paper
2020
Artist's Statement
The filming of this piece was created in 2020 at the height of the pandemic as part of the online worship experience curated for John Calvin Presbyterian Church. As such, it brings back a flood of memories of wrestling with isolation and seeking ways to be connected. Our summer focus was "names for God"--with that particular Sunday's emphasis being shepherd. A pastor is often called to "shepherd" a congregation, but perhaps the greater reality is we are meant to fully embrace our sheep-i-ness as a way of leading others. After all, it doesn't say, "The Lord is my shepherd, but when God isn't available or making the divine presence evident/accessible, I'll go ahead and take them helm." We tried to control for anything we could during that time when we were forced to face our utter lack of control. Painting was my prayer when I had no words. Painting was the way I coped with my inability to solve for the reality of the time. This piece will forever be a reminder for me of that often scary and sacred wilderness time. The Lord is my shepherd.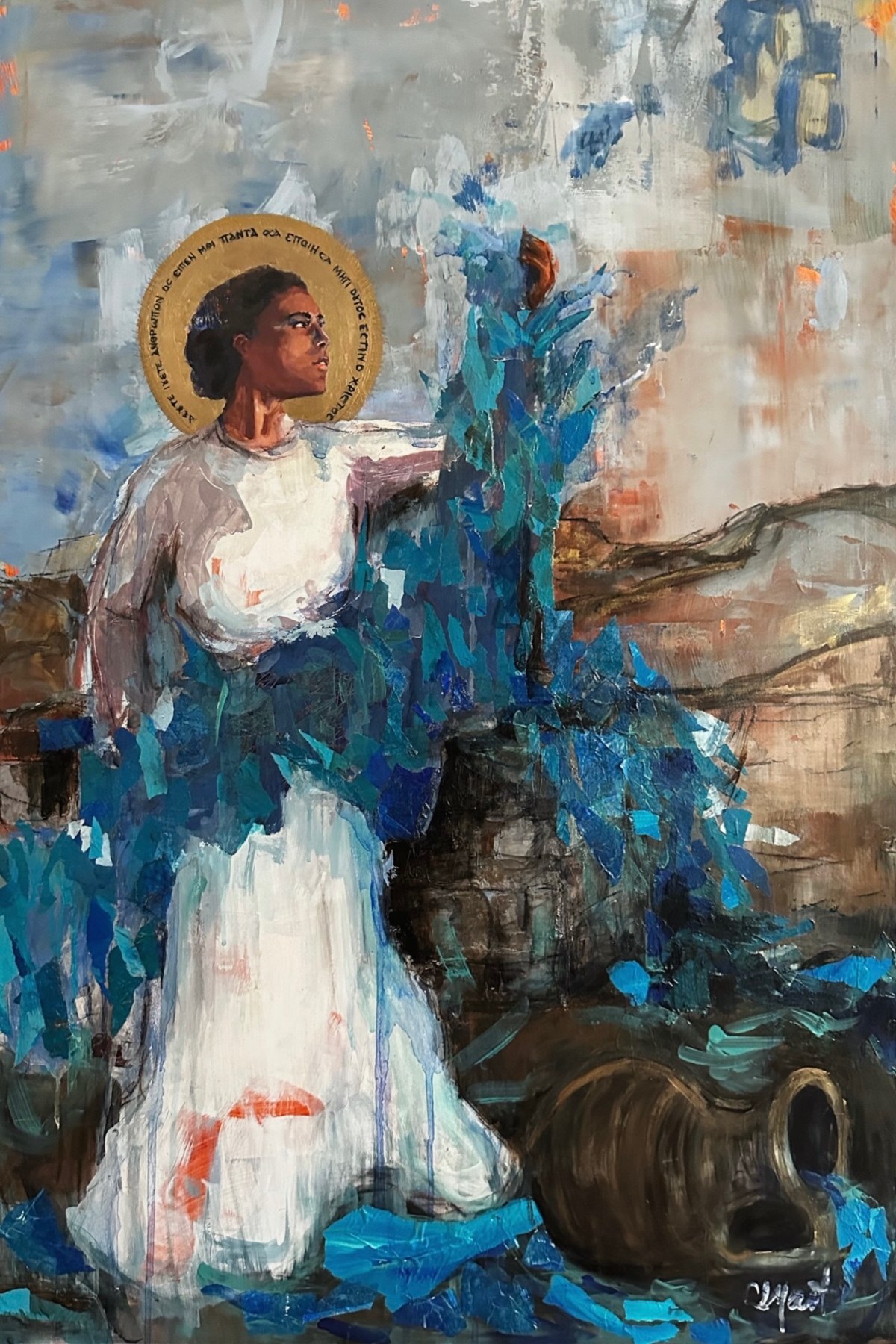 Everything Is Everything
36 x 48"
Mixed media on cradled board
"Come and see a man who told me everything I have ever done! He cannot be the Messiah, can he?" John 4:29
At the well, stories meet. Stories that separate: "Jews does not share things in common with Samaritans. Stories that are shared: "Are you greater than our ancestor Jacob, who gave us the well and with his sons and his flocks drank from it?" Personal stories: "Jesus, tired out by his journey, was sitting by the well." "... you have had five husbands, and the one you have now is not your husband. What you have said is true!" And new stories: "I know that Messiah is coming....When he comes, he will proclaim all things to us." Jesus said to her, "I am he, the one who is speaking to you."
Jesus sees her--and the fullness of her story--including that the promise of living water is also for her. He sees everything. He offers everything.
This painting of the person many call the first evangelist seeks to bear witness to her experience of the living water Jesus offers. In being known and being met with grace and promise, she is transformed. She cannot help share the story.
(This piece is not yet for sale, but the original and prints will be listed soon.)
REFLECT
Today you are invited to take a deeper dive into the details of the story through those who encounter Jesus within it. What can we tell about them from the story? Are they transformed within it? I've listed the key parts for each of the people/groups below--consider what thoughts/feelings/motivations might be associated with each. Once you're done, consider where you find yourself within the story.
The Samaritan woman
when she first encounters him
when she hears him speaking about thirst and living water
when she hears her own story reflected back to her
when she tells him what she knows of the promises to God's people
when she hears his response
when she hears him say, "I am he, the one who is speaking to you"
when she tells the other Samaritans
when they confirm to her their own belief, but tell her it's because they've seen it with their own eyes
The disciples
When they see Jesus speaking to a woman (but they refrain from asking him about it)
When they suggest he needs to eat
when they hear him speak of food they "do not know about"
when he explains that they are being sent to reap for that for which they did not labor
The Samaritans in the city

when they see/hear the woman returning (presumably without water!) and telling them about this man she believes could be the Messiah
the ones that then went to find Jesus and experience him for themselves
those who believed just from hearing the testimony of the woman, and those who returned and explained to her, "It is no longer because of what you said that we believe, for we have heard for ourselves, and we know that this is truly the Savior of the world."
REFLECT
Nicodemus is mentioned three times in the gospel of John (and only in the gospel of John). Today we hear the first and longest story featuring Nicodemus.
What words would you use to describe Nicodemus in this story?

John mentions Nicodemus came to Jesus at night? What meaning do you make of this nighttime visit? (I've always thought it was meant to be a cover-of-darkness situation, but last night as I finished a very long day of seeing to work and family responsibilities, I wondered if this might have been the only time Nicodemus could find to see Jesus. There is beauty in the quiet of night.)
Jesus tells Nicodemus that he must be "born anew" (also sometimes translated as "born again" or "born from above"). Take that analogy further. What do you know about birth? How might the reality of birth inform our understanding of what Jesus tells Nicodemus?
Nicodemus is mentioned later in the story from John 7:45-52: "Then the temple police went back to the chief priests and Pharisees, who asked them, "Why did you not arrest him?" The police answered, "Never has anyone spoken like this!" Then the Pharisees replied, "Surely you have not been deceived, too, have you? Has any one of the authorities or of the Pharisees believed in him? But this crowd, which does not know the law, they are accursed." Nicodemus, who had gone to Jesus before and who was one of them, asked, "Our law does not judge people without first giving them a hearing to find out what they are doing, does it?" They replied, "Surely you are not also from Galilee, are you? Search and you will see that no prophet is to arise from Galilee." And finally in John 19:39-42 "Nicodemus, who had at first come to Jesus by night, also came, bringing a mixture of myrrh and aloes, weighing about a hundred pounds. They took the body of Jesus and wrapped it with the spices in linen cloths, according to the burial custom of the Jews. Now there was a garden in the place where he was crucified, and in the garden there was a new tomb in which no one had ever been laid. And so, because it was the Jewish day of Preparation and the tomb was nearby, they laid Jesus there." Do you see a transformation in Nicodemus? Do you see yourself in Nicodemus' story?
This week, may you be filled with the kind of curiosity that transforms your faith.
In Christ,
Casey Wait
Artist's Statement:
Using watercolor and oil pastel on paper, I sought to create a sense of Nicodemus' distance and proximity to Jesus and the truth he sought. The light that seems far is also reflected on his face--it is what illuminates him, even as he remains in the shadows of the night.
I love Nicodemus' curiosity. I can relate to his desire to connect to what he now only seems dimly.

I can relate to his hesitation to go all-in, and to his confusion as to what it all means. His is a slow path to following Christ--one that we never get to know the fullness of.
Perhaps Nicodemus' life now exists as a question to our own--will we stay curious enough? Will we trust and believe? Will we follow the Spirit--even if we have no control or foreknowledge of where it blows?
(Original details HERE.)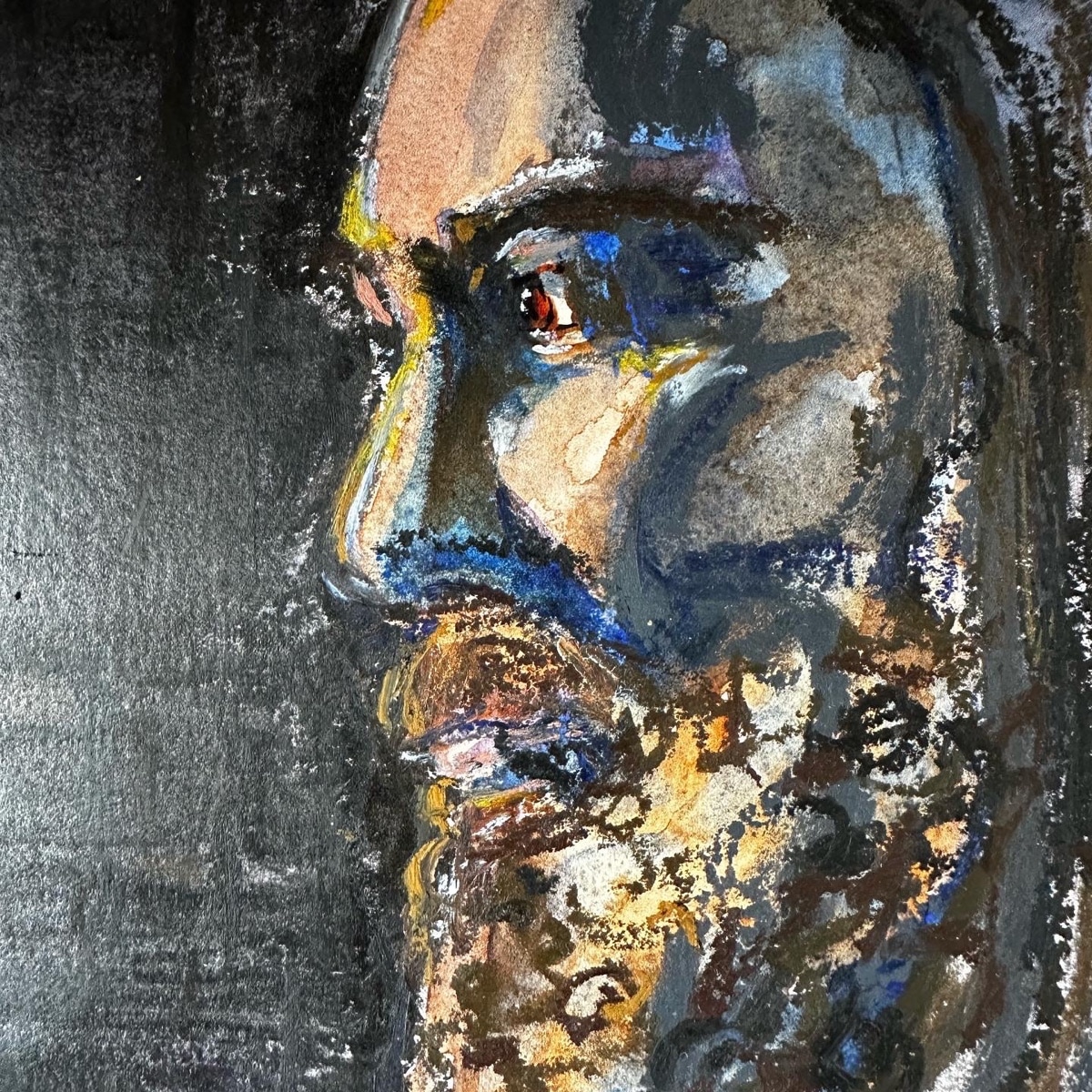 What is your reaction to the word "desire"? Does it carry negative/positive/neutral associations for you?
Consider your own desire(s). Write down as many as you can, big and small, on a piece of paper. Try to consider them without judgment. Offer your desires to God as part of your prayer life.
At a later time, take a deeper look at your listed desires. Do you see any patterns? Might there be desire there that is even deeper than the one written on the paper? Journal about one deeper desire. Consider the ways you try to satiate your desire in the short term. Invite God into the process. Continue to dig deeper through the week.
How might the Lenten practice of sacrificial discipline relate to awareness of our own desire? In consideration of your own reflections, what practice might direct your desire toward a deeper connection with God?
"The Gift of Desire"
Artist's Statement
This 3D watercolor piece was a labor of love that began at a time of deep personal upheaval and transformation. At the time, I wanted to reclaim what I began to see as the God-imbued gift of desire. It felt right to paint Eve as part of the process. Eve, vilified throughout history as the original temptress and catalyst for the "fall" of "mankind." Here, Eve is surrounded by the beauty of the tree. Her eyes are cast upward. Perhaps it is not the fruit she craves, but the connection. Perhaps there is only one way to find out.
The Bible says that when Adam and Eve ate the fruit of the forbidden tree "their eyes were opened and they knew that they were naked." There is a shift in how they see the world. There is a shift in how they will inhabit it as well.
Throughout history the Church has spent an inordinate amount of time fretting about that choice that led to what is called "the Fall." I see this as part of a different kind of seduction--the kind that is deeply rooted in patriarchal views and systems. Perhaps we would do well to focus more on our often sinful impulse to close our eyes to the world around us. With our eyes open, we might just create a world more reflective of that garden ideal.
*********
Thank you for moving through Lent with me!
Rev. Casey Wait